Constraints Help Us Spur Growth & Innovation
The Digital Leader Newsletter — Strategies and Techniques for Change Agents, Strategists, and Innovators
"The true creator is necessity, who is the mother of our invention."
— Jowett's 1894 translation of Plato's Republic
Painful.
Painful to hear about thousands of people losing their jobs. These people don't deserve this. Facebook, Amazon, Coinbase, Twitter, Opendoor, and a long list of others. Brutal and unfortunate. I've been through at least three major business cycles in my professional career. Many will react to this environement with a plan that implies "we should just pare back our ambition…"
The Digital Leader Newsletter — By John Rossman is a reader-supported publication. To receive new posts and support my work, consider becoming a free or paid subscriber.Subscribe
We are never "at the end of history," and cycles happen. They always have, and they always will. Here's the best reaction we can have in this environment —>We can see this as an opportunity with a new constraint, forcing us to be better at innovating.
We need to "do more" — more innovation, more improvement, more growth, with more at stake; "with less" — less time, less resources, less margin for error
Doing this successfully will test the combination of mindset, strategy, problem solving and building skills.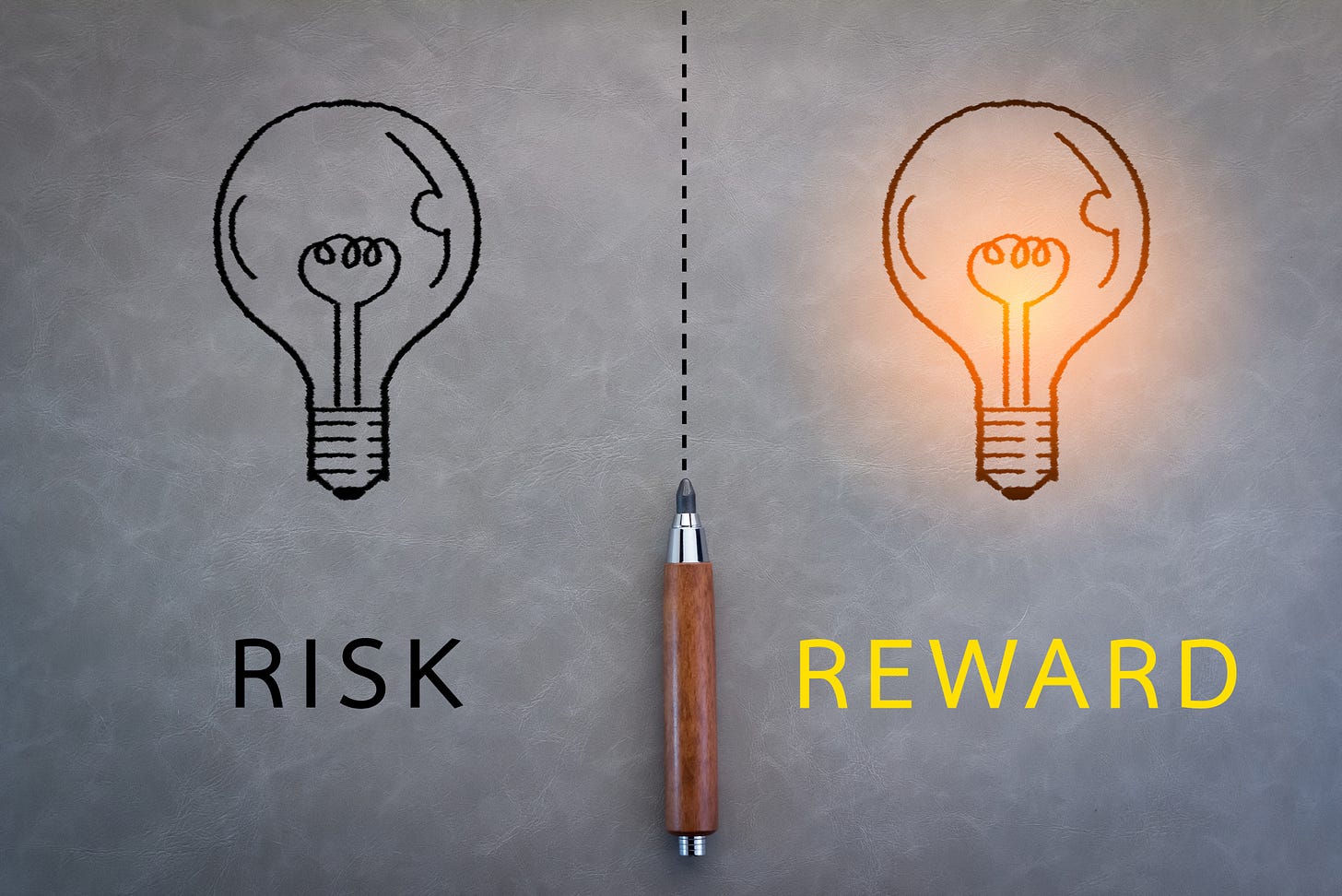 The Forgotten Amazon Leadership Principle
FRUGALITY
Accomplish more with less. Constraints breed resourcefulness, self-sufficiency, and invention. There are no extra points for growing headcount, budget size, or fixed expense.
I have often referred to "Frugality" as "the forgotten Amazon leadership principle (LP)." Over the last 15+ years of roaring growth, this LP has not been as vital as "Thinking Big, "Bias for Action" or any of the other Amazon LPs. It's been "go, go, go & scale" at Amazon —> and more recently at a long, long list of companies.
But the worm has turned, and FRUGALITY is back. Is this the end of innovation? Is this the end of growth? Is it the end of customer-centricity? The Digital Leader Newsletter is here to not only tell you "NO!", but to give you some ideas and hope on how to do it.
Focus on Opportunities
To say the Frugality LP was "forgotten" is not completely fair. It's been expressed in other ways. When you ship millions of packages or bytes of data, being "frugal" is expressed in finding micro efficiencies in shipping or computing efficiencies has a big impact across the massive base of transactions. This type of "efficiency" oriented frugality is the familiar playbook. Lean into this now.
But now, REAL frugality is back. Cut expenses. Cut headcount. Cut, cut, cut. And it means this … DO MORE, WITH LESS.
In Peter Druckers "The Effective Executive", one of the eight habits an executive has is "focus on opportunities instead of problems". Interesting…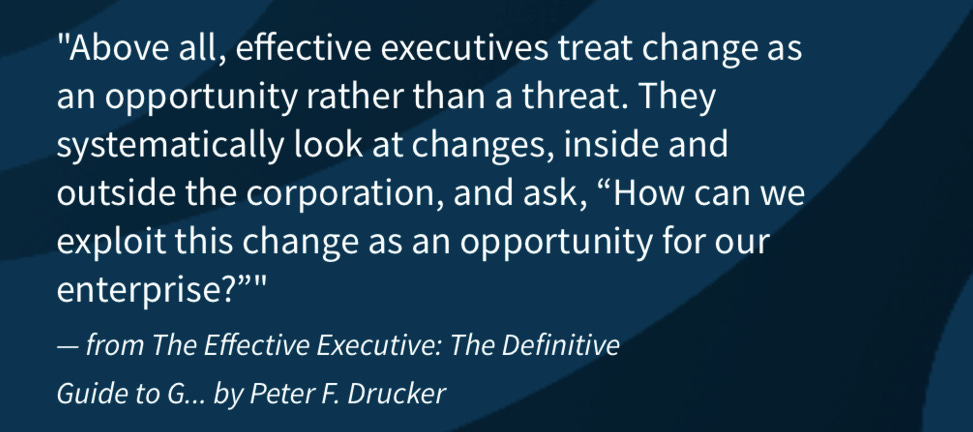 Digital Leaders find the opportunity in the reality of this environment. Focusing on opportunities shifts our mindset to invent into a better situation — often one that pays dividends short-term and long-term. Again, management sage Peter Drucker:
Because the purpose of business is to create a customer, the business enterprise has two–and only two–basic functions: marketing and innovation. Marketing and innovation produce results; all the rest are costs.
Put your "invention" game into action and double-down on finding immediate ROI opportunities to improve operational effectiveness, reduce the cost of goods sold, and to deliver more efficiently to today's customers by making a better and more efficient product or service.
The master constraint is "do more with less." This is the heart of "frugality". What's the wrong reaction to this reality? Seeing a reaction that is "do less with less" is the wrong reaction. Always focus on the opportunity and see the opportunity to do more with less.
Proof Points
In the HBR article Why Constraints Are Good for Innovation
, Harvard professors found that "We reviewed 145 empirical studies on the effects of constraints on creativity and innovation, and found that individuals, teams, and organizations alike benefit from a healthy dose of constraints. It is only when the constraints become too high that they stifle creativity and innovation."
They cite the example of GE Healthcare's 400 Electrocardiograph, which was developed for the constraints of a rural environment market that could not bear the weight, operational complexity, or costs of typical electrocardiographs. The team was given these constraints: "develop an ECG device that boasts the latest technology, costs no more than $1 per scan, is ultra-portable to reach rural communities (i.e, should be lightweight and fit into a backpack), and is battery operated. The engineers were given just 18 months and a budget of $500,000 – a very modest budget by GE's standards, given that development of its predecessor cost $5.4 million." Constraints like this force a team to "start with the customer and work backward" stripping away previous assumptions, features, policies, or business-model limitations.
I recently interviewed a computer software engineer for a SaaS company with high cloud computing software bills. These expenses are consumption-driven. His team has been re-architecting and challenging the value of many approaches which were implemented without an eye toward "unit costs" or scaling efficiency. They were given the constraints of reducing per-unit consumption by 15% while keeping performance SLAs constant. They are finding huge success at stripping away legacy architecture, dropping cloud infrastructure, and logging software savings straight to the bottom line.
And as so often happens, when they started rationalizing bloated and unconstrained products, services, and operations, their SaaS product actually ran better! The product is faster and easier for the engineering team to support. Their customers are getting a benefit from this stripped-down architecture! Pure magic.
Your Homework
I'm confident in Amazon's ability to "do more with less" and use this painful period to create an entirely refreshed era of innovation, growth, and leaders. It's in their DNA. They have seen the cycles. Has your business?
Old-growth forest fires are a tragedy. But there is some goodness from this tragedy as some species only hatch under intense heat.
This current business cycle is painful and people losing jobs is tragic, but it's happening. No denying it, and expect that what we know now is just the beginning. Use this period as a catalyst for "doing more with less" by having a growth and innovation mindset.
What are the opportunities in your business to do more with less?
Connect with me if you want to discuss your homework.
Onward.
John
About The Digital Leader Newsletter
This is a newsletter for change agents, strategists, and innovators. The Digital Leader Newsletter is a weekly coaching session focusing on customer-centricity, innovation, and strategy. We deliver practical theory, examples, tools, and techniques to help you build better strategies, better plans, better solutions — but most of all, to think and communicate better.
https://hbr.org/2019/11/why-constraints-are-good-for-innovation
https://www.britannica.com/list/5-amazing-adaptations-of-pyrophytic-plants
Subscribe to The Digital Leader Newsletter — By John Rossman
Launched 2 years ago
Strategy and Techniques for Change Agents, Strategists and Innovators. A newsletter from the author of "The Amazon Way" and "Think Like Amazon" John RossmanSubscribe